It's a universal truth – women with curly hair want straight hair, and women with straight hair want curly hair. Well, we have good news for you – we have treatments available that can give you the texture you envy and dramatically cut back on your style time. Whether you're looking to add more texture or straighten out your kinks, there is an option for you. Aside from the traditional relaxer, anti-curl and perm treatments, Salon Vanity is pleased to offer two new, cutting edge retexturizing treatments.
The first is American Wave, a treatment that adds soft, beach style waves.
For volume, texture, curls, and beach waves ARROJO American Wave is a quantum leap. It is a way to create soft, natural-looking waves and curl patterns for today's style-conscious clients. Using an innovative, ionic waving lotion the product penetrates the hair shaft gently, without roughing the cuticle or making it swell, which is what old-fashioned perms used to do. The ionic lotion reduces stress on tresses, creates a smoother cuticle, and makes hair fabulous and full. Click here to learn more.
The second retexturizing treatment that's been taking the hair wold by storm is the Cezanne Perfect Finish Keratin Smoothing Treatment, a revolutionary straightening treatment that boasts results of smoother, straighter and frizz-free hair.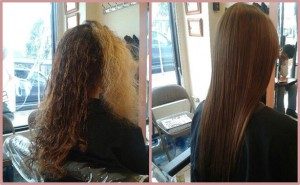 Cezanne Perfect Finish Keratin Smoothing Treatment provides comparable or better results to traditional formaldehyde smoothing treatments when it comes to removing frizz and smoothing hair – but without the harmful chemicals. Our revolutionary, formaldehyde free process penetrates into hair to infuse a unique blend of keratin, botanical extracts and vitamins that delivers not only smoother hair, but a restoration of natural luster for overall healthier and more manageable hair. Click here to learn more.
The first step to achieving the texture you envy is requesting an appointment for a consultation with one of our stylists. Salon Vanity is a Philadelphia Salon located on the corners of 17th and Walnut in Rittenhouse Square. Want more gorgeous? Stay up to date with all things hair by following us on social media!